Royal Business Fair - June 2019 Competition Winners - Pete & Clare Lubrano of RD Apparel, Lichfield
General | 21.06.2019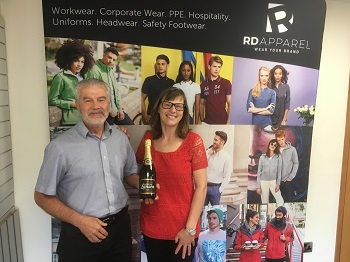 The Team at Burley Browne had a successful day exhibiting at the Royal Business Fair, held in June, at Ramada Hotel, Sutton Coldfield.

It was great to see so many local Businesses exhibiting and meet some great people.

On the day Burley Browne held a competition 'Guess the Floor Area' of an Industrial/Distribution Unit'  The correct answer was 95,000 sq ft and the nearest guestimate to this was 75,000 sq ft!  The Prize - a lovely bottle of Champagne!

Our congratulations therefore go to Pete and Clare Lubrano of RD Apparel in Lichfield - well done guys.... we'll make surveyors of you yet!

Thank you for everyone who popped along to meet with the team and who entered the competition!  We hope to see you at the next Royal Business Fair!