Retail Director scoops prestigious award
General | 29.10.2018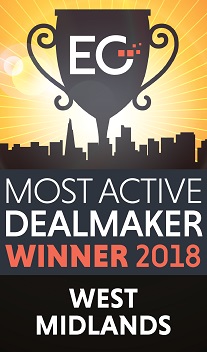 Retail Director David Hemming has fought off stiff competition from fellow commercial property agents to scoop the prestigious title of Dealmaker for the West Midlands 2018 in EG's (Estates Gazette) Most Active Agent Competition.
To win the 'Dealmaker' title, David completed more commercial property deals than competitors in the West Midlands over the past 12 months.
David Hemming commented; 'I am delighted to have been named EG Dealmaker for the West Midlands. This award reflects superbly on Burley Browne, justifies the hard work and excellent service provided by the whole agency team and demonstrates our increased profile and activity within the West Midlands commercial property market. We are continuing to experience high levels of activity across all sectors, but particularly in Retail where demand within good quality parades and affluent high streets outstrips supply and also for Freehold where we have seen a marked increase in interest from buyers purchasing through their pensions funds".
To discuss how the Burley Browne Agency team can assist with your commercial property needs, please contact David Hemming on 0121 321 3441 or email david.hemming@burleybrowne.co.uk