Burley Browne helps feed Bratwurst appetite
General | 04.10.2021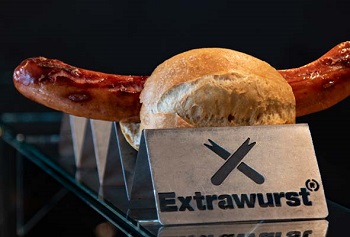 A new 'grab and go' food concept, which will bring bratwurst sausages to high streets across the country, is being launched with help from commercial property consultants Burley Browne.
The Sutton Coldfield-based company has identified Extrawurst's first two shops and is actively seeking further locations across the UK, according to Burley Browne director David Hemming.
David said: "Extrawurst has around 40 sites in Germany and it is now looking for four UK sites before the end of the year, with a much larger roll out in 2022 and beyond.
We have been instructed by the UK master franchise holder to find suitable sites which will give them a significant foothold in the fresh food grab and go sector. We already have two sites under offer, in the Birmingham and Nottingham areas.
The selected sites will be a mix of shopping centres, food courts, high streets, travel hubs and retail park locations."
David added - "We are keen to talk to landlords and agents who have sites that they believe will be suitable for a new grab and go fresh food concept."
Sam Shutt, CEO of Extrawurst UK, said: "The UK FTG market is expected to recover from the pandemic at a faster rate than the total eating out market so there's an opportunity for an innovative new offer on the high street which delivers an exciting range of good value quality food. 
As a nation we love sausages, they are the perfect food to eat on the go all through the day, whether as a breakfast snack or a lunchtime meal with a coffee. We are confident our menu will appeal to consumers and entice them to become Bratwurst enthusiasts."
The mouth-watering menu will consist of a choice of pork Bratwurst sausage in a bun, a range of famous Currywurst options, as well as Frikadelle and Schnitzel options all served with a choice of sauce toppings, sides and spices. It will also be  introducing a vegan Bratwurst in to the UK market.
To make an appointment with Extrawurst to learn more about its plans, contact David Hemming on 0121 362 1530 or 07841 234160, or e-mail: david.hemming@burleybrowne.co.uk
Burley Browne, based in Sutton Coldfield, Birmingham, represents landlords and both regional and national retailers. They are specialists in the negotiation of rent reviews, lease renewals and lease restructuring for landlords and tenants, acting for a variety of retail clients across the UK.
Burley Browne is one of the West Midlands' leading independent commercial property consultants. It provides a comprehensive range of commercial property services to a wide variety of clients. Theseinclude private individuals and small businesses, through to pension funds, banks, property investors and developers, multi-national companies and national retail and leisure operators. 
From its Sutton Coldfield head office, Burley Browne is unique in providing specialist knowledge of the North Birmingham and Staffordshire areas (which include Sutton Coldfield, Lichfield, Tamworth and Walsall), whilst also serving the wider West Midlands region.